I think this may be my first ever short blog. Thought I'd mix things up a bit. =) In my last blog I listed some ways that you could get involved and help these kids from the States. One of the ways was to make a wish come true by helping out with Christmas gifts. Well, Proniño has set up a very easy way for you to make that happen! A donation of $25 will cover the cost of their Christmas gifts. I've been sitting here trying to think of something that costs $25 to put things in perspective, but nothing catchy is coming to mind. Umm, for the cost of 5 drinks at Starbucks! Or for the cost of 2 books! 25 songs on itunes? Anyway, for $25 you can make a kid feel special! If you click here you can see all of the Proniño kids and choose your child. Maybe you want to choose them because they look like someone you know, or because their name is similar to yours – come on Richard, you know you want to sponsor Rigo. Or you can contact me and I can tell you more about most of the kids – because giving is always more fun when you know a little something about who you're giving to. For instance, there's
Christian Noe.
I have a ton of respect for this kid. Tempers can flare quite easily, but every time I see him, he's getting in between the ones that are about to fight and trying to distract them with some humor. Just such a good kid. And he's an aspiring
magician
and
breakdancer
. This
video
is just bonus…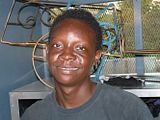 Derrick
If you have seen my wrists lately you'll see 2 exquisite bracelets compliments of the handiwork of Derrick. Who knows, if you sponsor his Christmas I may have a bracelet for you when I return in January!
My hope is that I'll be able to get 30 of these kids sponsored before December 15th. If you decide to sponsor a child, please let me know so I can update my goal! And please let me know if you have any questions!
I have 3 so far. 27 more to go!
And I can bring pictures or videos back from my trip in January so you can keep connected with them. =)